Imperial Assault Worlds Report: Part 1 of 3 (Preparation)
Greetings, loyal readers! I hope you're all having a wonderful time, wherever you may be in life right now.
Welcome to the first of three parts of my World Championship report for Star Wars: Imperial Assault, a game that has very quickly risen to become one of my favourite games, if not my overall favourite. Just like last time with my National Championship report, I'm gonna be kicking off with the stories of my preparation and the team that I decided to play before I jump into how I actually ended up performing. As the only representative from our fair nation gurt by sea, I felt like I had to carry that flag all the way to the top. I had to show the world that Australia was a real contender for Imperial Assault and games overall (not that we'd done poorly so far; we had a top 16 finish in Netrunner (with another in 17th), and our Armada National Champ missed the cut by coming 3rd when he needed 2nd!)
Anyway, let's get down to business:
In the Beginning, there was Fuzzy Friends
Immediately after Nationals was when I began planning what I would play for Worlds. After the outrageous success that Fuzzy Friends had had, I couldn't see any reason not to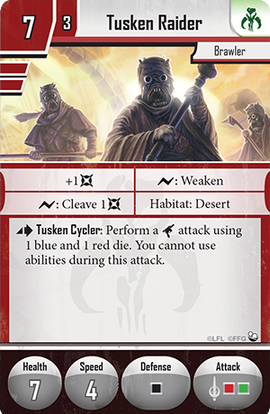 simply take them to the world stage and try my best. For more details about Fuzzy Friends, click here. I had pondered variations on the list, such as removing the HK Assassin Droids and replacing them with Elite Tusken Raiders, as well as upgrading the Wampa to a second Elite Nexu and swapping out Primary Target for Pummel. After trying out that list at a local tournament and getting destroyed, I quickly scrapped the swap. The list just stopped functioning at range, and after playing against opponents who knew how to play against the Bantha Rider, it became clear very quickly that it was not the absolute stomping machine that I thought it was. It was definitely still great, but by no means an unstoppable engine of destruction.
I moved through a few more permutations of Fuzzy Friends, including one where Greedo was cute to make room for Elite HKs with Explosive Armament, but felt like it might be a bit too cute. After talking to the coach (also known as the girlfriend), we agreed that the time for the creatures was over, and we needed to explore new options.
Seeds of the Rebellion
If there was one thing I was certain of about the meta, it was that I was going to be seeing A LOT of Imperial lists. Widely touted as the best list in the game (or so I thought), Imperial lists featuring either Blaise and Cross Training or the Inquisitor and Royal Guards were almost assuredly going to be a common feature at the tournament. This, again, basically eliminated them from contention for me; I absolutely cannot stand playing what is considered to be the most popular team/deck (the same thing happened in A Game of Thrones, where I made a complete switch in the final hours before I slept the night before the tournament!). Zillo Technique and troopers were a good mix, but I didn't want to end up in mirror matches all day where Stormtroopers would be gunning one another down and we'd hope to draw Reinforcements and Grenade while the other didn't. I'm sure some people love some matchups, but I prefer a bit of variety.
I played against an interesting Rebels list during the quarter final of the Australian Nationals, consisting of:
Han Solo
Luke Skywalker
Leia Organa
MHD-19
C-3PO
Gideon Argus
Heroic Effort
Whilst I didn't at all agree with Han Solo, I thought that MHD was very interesting, and had it not been for a very fortunate HK shot that downed him in a single attack, he would have been a complete nuisance for me. I started pondering what I would replace Solo with, and what possible builds I could do with MHD. For a while, my list looked like this:
Luke Skywalker
Leia Organa
MHD-19
C-3PO
Gideon Argus
??? (12 Points)
After the new map was announced and I played on it a fair bit, I began to heavily consider R2-D2 and Obi-Wan Kenobi for my list. R2 was able to reach the terminals on either side of the new map on the first turn, making him absolutely insane. In addition, with some help, he could also get to the terminals on other maps on turn one as well. I much prefer R2 to Rebel High Command, especially given the extra activation he brings, and that he also contests control (something which came up at least once in my tournament).
Obi-Wan on the other hand is an absolute tank of a unit. For seven points, he will generally only take two or three damage per shot from a Stormtrooper, and that's if they roll well! Given that they are the golden standard by which I measure survivability of units, being able to survive one and maybe even two whole activations of Stormtroopers for just seven points was absurd. Coupled with one of the strongest attacks in the game and the mo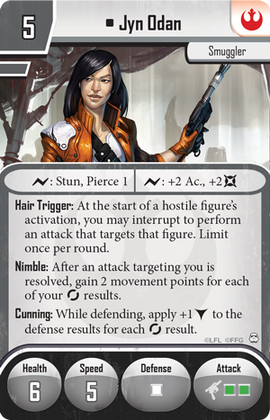 nstrous ability to deny control to cheap units, it was going to take a lot to convince me not to play him.
New Heroes of the Alliance
Davith and Jyn were also in the running for a while. Jyn can be an absolute weapon, with some of the best surges in the game and the ability to attack twice in a round, as well as the great defensive ability Cunning. I felt as though the white dice was going to be much more powerful than the black on average, especially given that most characters' optimal rolls involved a search for plus two damage. Being able to prevent that with an evade suddenly means that many of the white die faces end up blocking more damage than the black! Couple that with Cunning, and it's very possible for Jyn to take only one or even no damage from Stormtrooper fire!
Davith had some nice synergy with the Force User command cards I was considering, and with Vanish being as amazing as it is, he offered me more choices for both Leia and Devotion to be insane. Hidden proved to be a much more powerful benefit than I had anticipated (I had never really used it before), and Davith's ability to dance around and dish out small but consistent pockets of damage was far better than I had imagined.
Funnily enough, I ended up cutting MHD from contention very quickly when I discovered I was running out of points. Everyone else in the team was just too crucial, and whilst MHD had the potential to be amazing, playing him also meant that I would be playing so very few attackers, and that concerned me. In fact, even when I cut MHD, if I included R2-D2, I was again going to quickly find my character count too low. I needed at least four attacks, and they needed to be good attacks. Considering that trooper lists get upwards of seven a round, I needed my attacks to matter and hit hard.
I toyed around with a list featuring Channel the Force for a while, figuring that if I could mill myself from strain damage, I could continuously resolve Force Surge or Son of Skywalker, or even Vanish to great effect. Again, however, the interaction seemed just a bit too cute; I think that some day this may actually be really viable, but for now, I had to streamline it.
I tested out a Force User squad for a while featuring Murne for the third spy. I mean, he also seemed potentially amazing with all the Stormtroopers going around! The list was something like this:
Luke Skywalker
Leia Organa
C-3PO
Gideon Argus
Obi-Wan Kenobi
Davith Elso
Murne Rin
Heroic Effort
The major issue with this team was that two of its primary attackers were melee, and one of them couldn't reliably eliminate a unit in one activation. Davith was great for both the Spy and Force User theme, but after a practice game, I was not overly convinced of his ability to dish out damage. Obi-Wan, however, was incredible, and I began thinking that he would be in my squad no matter.
Attack of the Saboteurs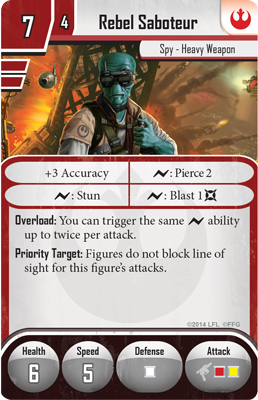 I began to ponder if playing two lots of Saboteurs instead of the two Force Users may be better. This would up my Spy count to three, and give me six attacks per round instead of four. Blast was clearly amazing, and their swift speed and great health meant they would be a nuisance to deal with. They were the same health and speed as Jyn, except there were two of them and they had the ability to deal great damage. It also meant that I'd be able to play Lock On, an awesome command card that allows me to plan my attacks out with more certainty.
The issue I thought I may run into, however, is the same issue I have with the Inquisitor's Lightsaber Throw: the attack is just unreliable. The yellow dice is incredibly unreliable, and needing to fight through Zillo technique just to trigger blast was not a prospect I was looking forward too. Often, Sab attacks would just bounce harmlessly off of Stormtrooper armour. I was unconvinced. After all, I could only focus two Sabs a turn; did I really want to be making two dud attacks a turn?
And that's when it hit me; why don't I just play Obi-Wan instead of one of the Sabs? He's an incredible control piece that hits hard, tanks a lot of shots and doesn't need focus to dish out heavy punishment. He was everything I needed in a figure. In fact, I needed his help in this most desperate hour. He would be my only hope!
With five attacks, and the potential of five three dice attacks, the team was a lot more convincing. Seven activations meant I had a great chance of going last even on off initiative turns, and I had a good mix of durability, damage and control elements. My command deck wasn't outrageously powerful like the Fuzzy Friends one was, but it was certainly consistent.
I set out for worlds with the following list pretty much locked in, but with some backups just in case I changed my mind:
"My Only Hope"
Luke Skywalker
Obi-Wan Kenobi
Leia Organa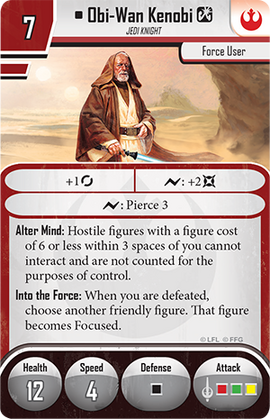 R2-D2
C-3PO
Gideon Argus
Elite Rebel Saboteur
Force Surge
Son of Skywalker
Lock On
Comm Disruption
Intelligence Leak
Single Purpose
Heart of Freedom
Negation
Tough Luck
Devotion
Urgency
Force Rush
Element of Surprise
Planning
Take Initiative
Return of the Fuzzy?
I took the list to the practice tournament and managed to go 4-1 with it, and was pretty satisfied with the way everything played out. However, as I played throughout the day, a voice in the back of my head was calling to me, wanting me to switch at the last minute as I always do. It had cooked up the following list, which had the potential to go hard or go home. However, on an amazing draw, the list was absolutely brutal, and could completely blow out games. There was a lot of card synergy and potential for cool plays as well. It was untested. It was wild. And it was calling to me:
"All Out"
Bossk
Bantha Rider
Elite Nexu
Gideon Argus
R2-D2
Greedo
Hired Guns
Temporary Alliance
Devious Scheme
Beast Tamer
Grisly Contest
Trandoshan Terror
2 Jundland Terror
Wild Fury
Crush
Single Purpose
Negation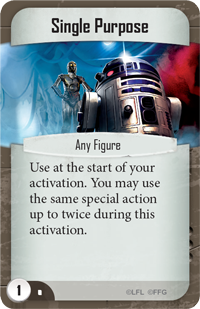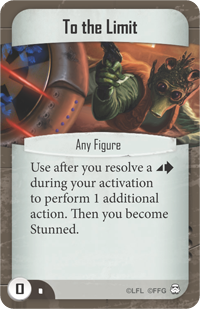 To the Limit
Urgency
Take Initiative
Planning
Opportunistic
Element of Surprise
Disorient
The idea of the list was to abuse the abilities of Bossk and the Bantha with Single Purpose and To the Limit to be able to dish out bonkers amounts of area of effect damage that couldn't be avoided. Double Indiscriminate Fire and Bossk's attack? What about double Trample, an attack and Stampede thanks to Beast Tamer? The combos were wild, and the potential for explosive plays were huge. Even the Nexu had the potential to go ballistic (though that required Wild Fury as well). When I thought about how fun it would be and the look on my opponents' faces as I trampled over their whole squad in just one activation, I really started to think. Again, the team was seven activations. I had the Hired Guns to open doors and go for control, and Greedo to deliver some sneaky damage with the assistance of all the figures that would be in the way. Fuzzy Friends and Mercenaries had served me well at Nationals, and I do love the Bounty Hunters. Should I take them for a spin again?
In the end, I decided, surprisingly, not to. Instead, I adjusted two command cards in my Rebel list that I felt didn't quite cut it. I swapped out Devotion and Single Purpose for Camouflage and Disorient. I feel like the cuts were definitely the right call, but I ponder if Disorient would have been better as Deadeye or something a little more generic. I can't remember too many instances where it was absolutely crucial. Sure, it was helpful, but it tended to force me into plays rather than open up my options, which is what I much prefer.
And that's how I ended up playing Rebels at worlds.
Join me next time as I dive into how I went in the tournament itself, and to see whether I would be made to regret fielding the heroes of Star Wars in the biggest tournament in the world!