Imperial Assault Worlds Report: Part 3 of 3 (Top 16)
Hello there, loyal readers!
Welcome back to my report from the Fantasy Flight Games World Championships, where I was blessed with the opportunity to represent Australia in A Game of Thrones 2nd Edition and Star Wars: Imperial Assault. This is the final installment of the Imperial Assault World Championships report, where I delve deep into the final rounds of the tournament, the Top 16 cut. You can check up my preparation and swiss round articles here and here, but for now, let's dive into the finals.
Top 16 ~Rematch with Alex (Rebels/To Your Stations)
Squad: Leia Organa, Luke Skywalker, 2 Elite Rebel Saboteur, R2-D2, C-3PO, Gideon Argus.
 I yet again won initiative and took the side closer to the lone turret. During the first round, Alex moved one group of Sabs up to his door, but refused to open it, waiting for me instead. Despite being tempted to, I decided to just hold my ground and try and secure the objectives. It was looking like I was going to hold all three…
Until Alex had both Son of Skywalker and Change of Plans to go on the hyper aggressive. Trying to take down one of my focused Sabs and contest the objective, a key X meant that the Sab lived on a single hit point and I scored six points from objectives (but couldn't shoot anybody). The start of the second round saw an end to my Sab, with the assailant running up the stairs (a very crucial element in this). Obi-Wan wailed on Luke, with Luke giving some back before running to a corner. However, he wasn't quite safe there, and my Luke tried to finish off the doppleganger, dealing heavy damage from around the corner. His Leia stepped in the way, but mine came in with Battlefield Leadership, and in a single activation, Alex's princess was no more.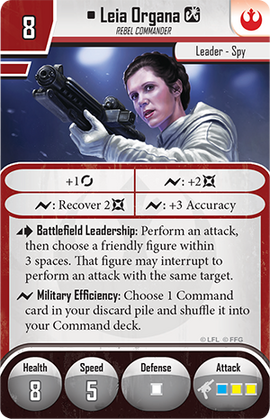 In the meantime, C-3P0 ran back and focused Gideon, who then took a solid shot at the Sab on the stairs, delivering four damage. With the help of the turret which Obi-Wan still controlled, the Sab was gunned down, and I scored another six points from objectives.
I don't quite remember the beginning of the third round, but I believe Obi-Wan walked up and chopped another Saboteur down, ending adjacent to Luke. Interestingly, Alex didn't activate Luke, but instead went with someone else (I can't remember who). He had miscounted and thought that Luke was safe, but Leia snuck in and, with Battlefield Leadership, eliminated her brother, and Alex, from the game (the match went on for a little longer, but really it was over from here).
5-2
This was the final round on the first day, with the top 8 being played the next day. I went out with Ben (the Australian X-Wing Champ) and Tom (former AGoT 1st Edition Combined Champ, and also my roommate from my previous world's stay) and had a burger and around a thousand laughs. We talked about how we'd done on the day, and how we all still had a chance to take it for Australia (though Tom wasn't so sure he could make it). Getting home and sleeping quite late, I was pretty glad that daylight savings happened to be ending that night, meaning I had an hour of extra sleep. I woke up in the morning, headed over to the main games centre, and found out that I would be on live stream with Jesse Eakin.
Top 8 ~Jesse (Mercenaries/Fallout)
Squad: Bantha Rider, 2 Regular HK Assassin Droids, Bossk, C-3PO, Gideon Argus, Temporary Alliance, Beast Tamer
This match was streamed; you can find it on twitchtv.com. That also means I have copious details about it.
Being clueless as I often am, I didn't even realise that Jesse was one of the two podcasters that I actually listened to on Vader's Finest. When I was learning the game, they were definitely my favourite podcast to listen to (I just never really paid attention to their names ><). Probably for the best I didn't realise, or I'd likely have been rather intimidated. Sometimes ignorance really is bliss!
I happened to win initiative yet again when I didn't want to. I set up in a very similar fashion to what I did against Alex in my final round of swiss; R2-D2, Luke and Leia to the command room side, the rest of my team near the objectives. Jesse set up his whole team near the objective side, allowing R2 to sit on that terminal. It was gonna be a tough battle for those objectives, especially with Luke and Leia effectively out of action for the first turn.
Fortunately, I had a very solid opening hand. Activating Leia first, I used Intelligence Leak and got rid of the all important Jundland Terror, taking the two strain as damage. Leia and Luke then tag teamed the door down, with Leia rolling perfectly to recover two and shuffle Intelligence Leak back into my deck, and Luke taking down the door. We then fiddled around for a bit, with Jesse focusing his team up and doing the Bantha shuffle with Gideon, whilst I too focused up, also picking up Son of Skywalker from R2-D2.
The Bantha ran in with Beast Tamer and grabbed an objective, pushing forward the front line of HKs and Bossk yet again (this ended up being a crucial part of the game). Luke went in and took control of of the centre terminal, while one of my focused Sabs ran in and took a long shot at a HK (which the Bantha had shuffled forward), scoring a solid hit but not quite taking it out. Jesse's other HKs ran in and one took a focused shot at Luke, with some tough luck showing me a blank, and an actual Tough Luck removing Jesse's rerolled two damage dice. The Son of Skywalker activated again, and ran in with a lighsaber at the HK, rolling three damage and a surge, but the HK managed to roll the one evade on the dice to survive, meaning Luke was in serious trouble next turn.
In fact, Luke was out of the game before I could blink. The same HK used Focus (the command card, which surprised me) and then shot down the hero of the rebellion, with a round of applause from the audience accompanying his fall. This did mean that my Sabs could get to work, and to work they went. The unfocused one managed to roll some decent damage and surge on the Bantha, opting for blast to eliminate one HK and pepper Bossk and the other HK. Bossk was having none of that, and he ran in to blast the silly Duros, who managed to survive the blast. A focused HK awaited him, and I thought it was going to be the end for him.
Then the HK just picked up a broken droid. Jesse didn't want to waste a focused HK attack on a severely wounded Saboteur.
What I don't think he counted on was the other Skywalker coming in with a surprise shot from around a corner (dealing great damage), whilst the Rebel Saboteur then rolled the best possible result on his Battlefield Leadership attack, wiping the Trandoshan out exactly (that one damage from blast earlier ended up being key!). The Bantha came in and stomped on the plucky alien Rebel, with Obi-Wan coming in to meet the threat.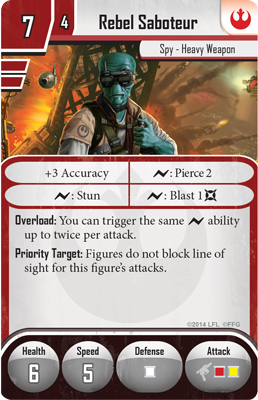 Leia and Obi-Wan tag teamed the Bantha, injuring it severely, before it ran off to trample my back line. Obi-Wan then walked up to the HK with the broken droid (who also happened to still be focused) and went in for the kill. A poor combat roll meant only two damage went through, and I started to panic…
Until I realised that the HK had taken one damage from blast earlier (that Rebel Saboteur was the absolute MVP of this match).
Force Surge secured the kill on it, and scored me a further eight points. The score was now sixteen to ten, my way.
The other two HKs, however, were still causing problems. My single remaining Sab was on very few hit points, and C-3PO was gunned down. Gideon failed to kill the Bantha, meaning that the Rebel Saboteur went for a long shot with Lock On to take the beast down. It was now twenty-five to twelve, my way.
The next round saw the end of the Sabs and Leia from the HKs, meaning Jesse jumped into the lead, twenty-seven to twenty-five. Obi-Wan was too far away to leap into combat, and my only other aggressive character, Gideon, was wounded. Jesse was down to one HK, C-3PO and an injured Gideon to my mortally wounded Gideon, R2 on the terminal (who had been my constant source of card advantage) and Obi-Wan, perfectly healthy but far away from the fight (and with a broken droid now in hand). There were five minutes on the clock.
Gideon ran around the corner, hiding from Jesse's army. Ahead on points, Jesse moved his units to secure the terminal in the centre to prevent Obi-Wan from getting there. However, a combination of Heart of Freedom, Force Rush and Urgency meant that the old Jedi Knight flew across the board, with exactly enough movement to deliver the objective and put me ahead by seven points. Time was called, and there was no possible way for Jesse to make up the point deficiency, meaning that I had just secured my spot in the top four.
6-2
What won me this game more than anything was command card control; for pretty much the entire game, I knew all of the cards in Jesse's hand, and even when I didn't, I had Comms Disrupt and Negation in hand ready to answer anything. Leia's recycling meant that I saw Intelligence Leak THREE times in the game, and on the final turn of the game, I still ran out of deck. R2-D2 and almost uncontested terminal control meant that I was able to play pretty much my entire command deck.
There are many different ways this game could have gone if decisions on either side had been slightly different, and for me, this game is the one I will always look to to remind me of why I love Imperial Assault, a game that is deceptively complicated and layered with decision points, many of which can determine the whole trajectory of the game. What if Jesse had shot my Sab instead of going for the objective? What if I hadn't gotten greedy with Luke on turn one? What if I had gone for Stun on the Bantha instead of blast? So many things would have been different, and that to me is the mark of an amazing game.
Top 4 ~Desmond (Rebels/Lair of the Dianoga)
Squad: 2 Elite Echo Base Trooper, 2 Elite Rebel Trooper, Gideon Argus w On a Diplomatic Mission, C-3PO
This was the dream map for me. The Rebel Troopers are even worse than Stormtroopers are at damaging the Dianoga, and have to spend the whole first turn just getting into position. In the meantime, my squad can solo kill the beast and score so many points that it should become negligible to take out the remaining fifteen points.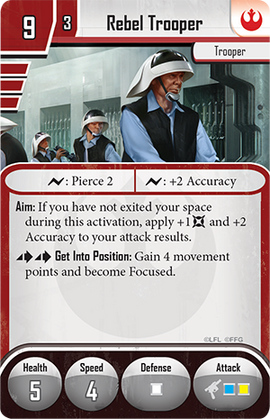 In addition, I had played this matchup just two days earlier and managed to quite handily win, so I was rather confident going in. If I fought Imperials in the finals, I thought, I may be World Champion yet.
Then I decided to set Obi-Wan up one square too far back, meaning I failed to kill the Dianoga turn one.
It was a tiny mistake, something that seems so small. Obi-Wan was just one square too far back. No big deal right? Wrong. In my opinion, this was everything.
I decided to Take the Initative on turn two (after winning initiative YET AGAIN -_-) and end the Dianoga with Leia and Obi-Wan, scoring twenty five points. However, Obi-Wan took so many blaster shots that he was forced to retreat on just a single hit point. Whilst I was ahead on points, I was now facing down a literal army of figures, almost all of them focused and ready to hunt me down. Obi-Wan quickly fell, and while I managed to wound many of his troopers, the last one was slipping away, meaning I wasn't scoring points.
Luke soon joined his fallen friend, and my army started crumbling. I just couldn't put out enough damage and catch the fleeing troopers, despite a turn where I rolled now fewer than four Xs to live. All I kept thinking was how this game had slipped out of my fingers on turn zero, when I set Obi-Wan back one square too far.
Once Leia fell, it was all over. Desmond still had around six troopers to my two Sabs, and with Reinforcements coming in, my team was overwhelmed by blaster fire, and my team, and World Champ aspirations, went down in smoke.
6-3
Despite congratulatory messages all around, I was a bit disheartened at this loss. Desmond had played well and did exactly what he needed to to win, and I had no-one to blame but myself. I don't even know whether I would have won had I set Obi-Wan up just a square closer. All I could think, though, is what if? What if I had just burned Heart of Freedom on turn one? What if I hadn't take the initiative on turn two?
Clearly, however, it wasn't to be. I was not meant to be World Champion this day.
That said, I had an absolutely wonderful time playing against the best players in the world. Despite the fact that Zillo Spies won the day in the end, I want to point out a few key things:
-In the Top 16, the split was 4/6/6 for Rebels, Imperials and Mercenaries, which is so close to as perfect a split as possible (5/5/6).
-In the Top 4, the split was 2/1/1 for Rebels, Imperials and Mercenaries.
-My record with my team was 3-0 against Imperials, 1-2 against Rebels, and 1-1 against Mercenaries.
What I want to emphasise is that Imperials, despite being overwhelmingly popular on the day, are not the be all and end all that many seem to think they are. Is Zillo powerful? Absolutely. Are Stormtroopers among the best units in the game? Definitely. Did Zillo Spies win the day? Yes, they did.
But it only takes a cursory glance around to see just how many other lists were able to perform exceptionally well throughout the tournament. The game is in an amazing spot right now, and it was really difficult for me to make a decision as to what to play (though I vowed not to play Imperials for exactly the same reason I chose not to play Lannister in AGoT). Popularity does not mean that something is broken or overpowered, merely that it is popular. And for good reason; Zillo Spies is a list that rewards player skill and affords you a lot of agency in decisions. Rerolls, command control, and Zillo mean you're less susceptible to the random elements of the game than other teams. At the highest level of the game, many felt that this was the surest way to succeed. Evidently, this was not the case across the board.
I'd like to thank Fantasy Flight Games and the IA Community for making my trip every bit as amazing as it was. There were a few hiccups here and there, but I was definitely lucky to have had such a wonderful experience. Next year, I'll be back for the crown (hopefully). Jabba's Realm is due soon and looks like it's going to hugely shake up the meta. I look forward to sniping people down with Alliance Rangers, eating everything with the Rancor, and even charging down people with some Dewbacks.
Most of all, I just look forward to playing this amazing game more and more.
Until next time,
MTFBWY!